20* Tips, Tools, and Treats to Help Kids—and Adults—to Make Friends with Emotions…
The JNP Project gets it: emotions are a very big deal.

Go to www.thejNPproject.org for additional data resource information
That's why emotions (and ten core value superpowers) are the heart of each book in JNP's illustrated chapter book series, Jane & Jake's Adventures to Awesome.
That's why nine-year-old Jane's magical pet goldfish, Oracle, takes Jane, her friend Jake, and all our readers to the Undersea World of Awesome to discover that feeling "sad, bad, mad, or glad"—and all the emotional "colors" in between—are a P.R.I.M.E (Perpetual Rainbow Inside My Emotions) part of their "inner awesome."
But wait…what are the best ways to teach kids about emotions?
JNP is pleased to offer you this carefully curated collection of awesome, creative, and practical resources to dive into emotions. Enjoy!
•  DEFINING, RECOGNIZING, AND IDENTIFYING EMOTIONS
•  APPRECIATING AND EXPRESSING EMOTIONS
•  CALMING EMOTIONS
•  GETTING EMOTIONS ESSENTIALS

* Note: This page will be regularly updated. Please bookmark and return often for more resources.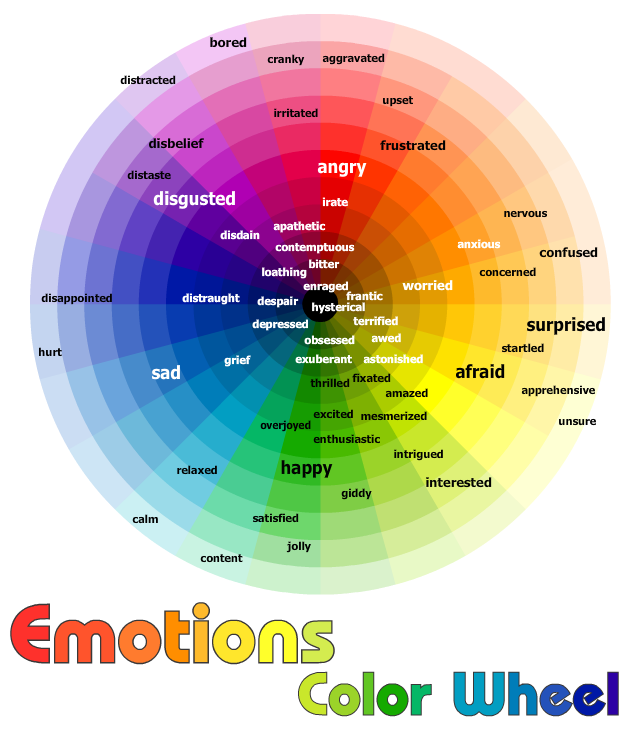 Thanks to do2learn.com for creating this fun Emotions Color Wheel.


20* Tips, Tools, and Treats…

DEFINING, RECOGNIZING, AND IDENTIFYING EMOTIONS
Challenge yourself:

How quickly can you find the sixteen emotions

hidden in this fun, free JNP Emotions Word Search puzzle? For kids ages 7+ and all adults.
Check out the colorful and charming animated emotions in the recently released

Disney-Pixar film, Inside Out. For many kids, eavesdropping on the conversations and reactions of eleven-year-old Riley's inner emotions (anger, disgust, fear, joy, and sadness) may be an introduction to their "inside" energy that finds its way "out." For kids ages 3+ and all adults.
Color Riley's five emotions characters (Sadness, Fear, Anger, Disgust and Joy) from the Inside Out movie on these free printable coloring pages. Especially for kids ages 3-8.
Check into your eight major emotions.

Not surprisingly, no one knows definitively how many emotions exist. But take a look at psychologist Robert Plutchik's downloadable Wheel of Emotions with color intensities that match the strength of the emotion. Eight basic emotions (including Riley's five in Inside Out) are located in the second ring; numerous other related emotions are also shown. For kids ages 7 and older and adults.
Match how you are feeling and identify the name of your emotion

with 54 emotions cartoon faces on this clever printable (and colorable) "How do I feel right now?" chart . Feeling an emotion not displayed? No problem. Two blank faces are included to add your own emotions. For kids—and adults—of all ages.
Distinguish and name your specific emotions

with the help of another, superb color wheel from do2learn. Click on any one of the many emotions, and a definition, description, etymology, and a face expressing that emotion will helpfully appear below the wheel. For kids ages 4+ and all adults.
Want to create your own emotions color wheel?

This wheel, a blank version of the above color wheel from do2learn, contains two colorful downloadable templates

to track your own emotions

. A wonderful tool for parents to use with their families and teachers with their students. Tip: you may want to create a new wheel each year (or more often) to see how your perceptions about your emotions have changed. For kids ages 5+ and all adults.
Imagine robots with emotions.

What do they feel? What makes them feel this way? These delightful free downloadable emotional robot flashcards can help explore empathy, jumpstart imaginative storytelling, and provide playing pieces for a new, fun game that you (and kids) create. Eight colorful robots show eight different emotions on their faces. Especially appropriate for kids ages 4-6.
Untangle those knots of negative emotions

by figuring out what you're actually feeling (Are you angry? Embarrassed? Guilty? Hurt?) so you know what's the best—and most appropriate—action to take. How? Prevention Magazine recommends trying one or more of these six simple yet amazingly effective steps: 1) Give yourself a time out; 2) Train your emotional brain; 3) Write it down; 4) Do a gut check; 5) Take a hike; and 6) Clean up clutter. For young adults and older.
Test yourself and your emotional awareness with this quick

six-question "Emotion Smarts Quiz." For young adults and older.
Take a look at emotions—what they are, where the come from, how thoughts influence what we feel, how to positively express them, and what happens when we try to ignore them

(we pay a high price)—in this excellent, one-page emotions "mini-course." For pre-teens, teens, and adults.

APPRECIATING AND EXPRESSING EMOTIONS
  

Get engrossed in these

children's stories,

which not only entertain but also help kids to appreciate emotions, understand others' perspectives, and develop empathy

—all essential components of social-emotional (SEL) learning. For kids of all ages—and adults who love to read to them.
  

Find more children's books about kids' emotional well-being from this annotated list of

"Books That Heal with Kid Appeal,"

a special feature of The JNP Project website.

 Story summaries, themes, and activity suggestions are included. (Note: Many of these books can be found in libraries.)  Currently, books mentioned are especially for kids from ages 5-10; this list will be updated to include older elementary/middle school.
  

Get to know and appreciate your brain—and how it thinks, feels, and decides

—with the help of these

three free downloadable, age-appropriate, illustrated posters

, "Getting to Know and Love Your Brain," a part of the Scholastic Company's  program called MindUp Curriculum to "help learners focus and reach their potential through brain-centered management and teaching strategies." These superb summaries teach easy-to-understand brain basics that will have kids (and you) admiring the complexity and beauty of our brains while learning about the amygdala—the part of the brain that tries to protect us by triggering  worry, distress, anger, fear—and how to manage intense emotions. (See #19 below for a YouTube video with amygdala-calming techniques.)  Get the

Pre-K-2 poster

here;

grades 3-5 poster

here; and

grades 6-8+ (including adults) poster

here.
  

Help kids learn about their emotions—especially anger, fear, and worry—with these

five iPhone/iPad apps

for young children

recommended by Jinny Gudmundsen, a kid-tech expert.   For kids ages 4+.

CALMING EMOTIONS
  Use a simple three-step process to calm emotional turmoil.  Committee for Children's Second Step program recommends:  a. Catch yourself while feeling a negative emotion and prevent its escalation by using words such as "Stop!" or "Chill pill time"; b. Identify the specific emotion you are feeling ("I'm angry" rather than the vague "I'm upset") ; c. Diffuse your emotion through deep "belly breathing" or positive self-talk ("I'm doing fine," "I can take it easy now"). A free downloadable poster of the three steps is available.  For kids—and adults—of all ages.
  "Breathe, think, and do" are the three steps that Sesame Street teaches pre-school and Kindergarten kids (and that older kids and adults can try) to do when they are feeling frustrated, sad, disappointed, impatient, and worried. A free, highly recommended interactive app, featuring Sesame Street monsters, is available in the iTunes Store and Google Play Store. Kids help a monster to calm down by taking three breaths, thinking of a plan to feel better, then doing the plan. You can sample this process—which always includes asking a grownup for help—on this YouTube.  English and Spanish language options. A Parents' Section includes valuable tips and strategies. Especially appropriate for kids ages 3-5.
  

Help kids build resilience by managing disappointment, stress, frustration, anger, etc. through a game-based approach to learning social and emotional skills.

Try this interactive adventure story game app with "fully voiced characters" called "If…The Emotional IQ Game."  ("If…" was inspired by 19th century poet/writer Rudyard Kipling's famous long poem of the same name, which Kipling wrote as advice to his only son.)
A)     "If…" creators say that playing their game helps kids to "learn to listen; make friends and deal with bullying; bring [their] attention and focus to school work and club activities; gain confidence at dealing with a variety of social situations; and learn ways to manage stress, anxiety, anger, sadness and frustration." In addition, "parents get involved by playing alongside and using the Parent's Dashboard to keep track of the skills your child is learning."

Free video samples

of this app and a video by kids are available here.  A

white paper

, "Learning in If…," written by "If…" creators to describe the what, why, and how of the game, is downloadable here. A detailed

syllabus

(SEL goals, game chapter overviews, SEL learning stages, and more) for teachers, school counselors, and homeschool educators is featured here.
B)    

The "If…" iPad/iPod Touch/iPhone app and Chapter 1 are free;

additional chapters are available through paid subscription ($1.99 per chapter). An excellent description and

review

of this app is offered by Common Sense Media here. Appropriate for kids ages 5-12.
  

Calm your stress or feelings of distress by comforting the part of your brain (called the amygdala)

that protects you from perceived harm—even if it means "hijacking" your emotions. This seven-minute animated youTube video, "Calm Down and Release the Amygdala," provides a clear, simple description of what's happening in a brain when it signals that we are in danger and shows simple techniques to calm ourselves by: 1) bringing additional oxygen to our brains through breathing ("square breathing," deep breathing); 2) relaxing (tensing and release muscles; imagining a safe, happy, and calm environment); and 3) thinking green (positive, helpful) thoughts; changing "red" thoughts to "green" thoughts. For kids ages 7+ and all adults.

GETTING EMOTIONS ESSENTIALS
  

Enjoy a full-course "learning meal" on how Social and Emotional Learning (SEL) dramatically improves kids' lives by listening to this impressive

free webinar,

chock full of information and resources—definition, description, purpose, techniques, and supportive research.

 Called "How Games Can Help Children with Special Needs Develop Critical Life Skills" and directed towards teachers, this webinar is equally valuable for parents and all adults who care about kids. It focuses on games that successfully teach all kids social and emotional learning skills. (You may want to skip the intro and start at 2:00 when Janice Toben, co-founder of the Institute for SEL, speaks.) For adults.