Blog post by: Theresa Downs, marketing and Outreah Manager
Anne Arundel Economic development Corporation
For many children, unhealthy self-esteem may lead to a multitude of destructive behaviors such as fear, social anxiety, depression and obesity. To combat this problem, communications professional Dona Rudderow Sturn launched the Jane NOT Plain (JNP) Project.  The project's goal is to nurture character, courage, and confidence in children, and help them discover and make optimal choices from their "inner awesome" (healthy self-esteem). In addition, Sturn wanted kids, parents, grandparents, educators, and counselors everywhere to have the tools to help ensure that today's children understand, and live by the vision: I AM. I CAN. I WILL. EMPOWERED.TM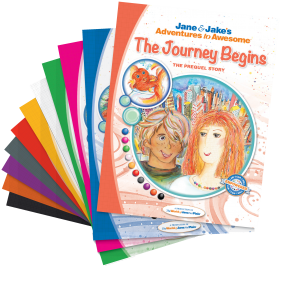 The JNP's lead product line is an illustrated adventure book series written by a team of international writers: Jane & Jake's Adventures to Awesome. The book series is also supported by empowerment tools including: songs, parent activity kits, educator curriculum, interactive activities, JNP Gear, and the kids' Club Inner Awesome (CIA – become an Empowerment Agent).
In June 2014, Sturn reached out to Hollis Minor, the Small Business Development Center (SBDC) Consultant at the AAEDC. Sturn says the JNP Project was a "big" small business; a 90-page website was being developed and about 35 associates,  including an Advisory Committee of 12, was helping her but she needed business guidance to move the initiative forward.
It was an enormous and complex undertaking and Sturn was being advised by so many different people that she really needed someone to help her harness, analyze and apply all of the input to stay on track as she worked toward her business launch.
When she first called Minor, Sturn had been in product and website development phase for almost a year and was personally funding all of the activity. With three of 31 books done and another 52 branded products available, Minor felt that Sturn needed to get a better handle on her financial picture. Under Minor's guidance, Sturn created an accounting system that would better manage inventory and point-of-sales activity, as well as judge profitability of each item.
A CPA, QuickBooks Pro Advisor, and Minor helped develop financial assumptions, projections, and breakeven budgets to best guide Sturn to make solid business decisions. Once her complex accounting needs were met, Minor also assisted Sturn with a host of other startup issues such as obtaining an office location with a retail storefront, manufacturing, adhering to action plans, and maximizing marketing and PR efforts.  Sturn also received assistance in preparing for a Shark Tank pitch in May 2015 for which she created a video for consideration to be on a future episode.
In March 2015, the JNP Project officially launched as a robust educational and ecommerce website.  Also at this time, the initiative hosted its Ribbon-Cutting Open House to mark the grand opening of its national headquarters and retail store. Today the JNP Project is credited for creating 22 jobs and realizing book and product sales goals.
"A big thanks to Hollis Minor of the SBDC, for her team support, encouragement, and of course, astute business acumen—supporting JNP teams with strong mentoring suggestions and directives—now, and all the way to global success ongoing!," says Sturn, CEO of the JNP Project.

Click here for the original SBDC post.
If you are a startup entrepreneur or an established small business owner looking to take the next step in growth, contact Anne Arundel County's counselors by visiting the SBDC website.