Truth | Kindness | Harmony | Forgiveness | Giving | Love | Determination | Compassion | Strength | Character "I am ME!"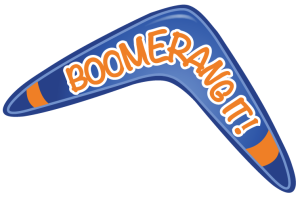 This is what our JNP COMMUNITY is doing to Boomerang GIVING
Get inspired. Do something good. Do it right. Make a positive difference.
#448
Gave up boomerang to another student.
DE SOTO, MO, USA Colby H.
#330
I helped my neighbor Sue take out her trash.
ROCHESTER, NY, USA Israel Vega
#323
I helped my sister ride her bike with no training wheels.
ROCHESTER, NY, USA Aliyah
#293
I helped my sister with homework.
ROCHESTER, NY, USA Skylar Stidd
#278
I did the dishes for my mom and dad and brother and sister.
USA Anonymous
#266
I was in Columbia, MO at a Kaldi's Coffee and asked the person behind the counter if she would pass out a boomerang to a customer. I also included money to purchase a cup of coffee for the recipient.
COLUMBIA, MO, USA Julie Szaj
#265
I was in Columbia, MO at a Kaldi's Coffee and asked the person behind the counter if she would pass out a boomerang to a customer. I also included money to purchase a cup of coffee for the recipient.
COLUMBIA, MO, USA Julie Szaj
#249
I was in Columbia, MO at a Kaldi's Coffee and asked the person behind the counter if she would pass out a boomerang to a customer. I also included money to purchase a cup of coffee for the recipient.
COLUMBIA, MO, USA Julie Szaj
#214
I was in a coffee shop and saw a father sitting with his son. I explained to him about JNP and the Boomerang It project. I told him I would like to buy his coffee, gave him a boomerang, and asked him to involve his two sons in an act of goodness as well.
COLUMBIA, MO, USA Julie Szaj
#210
I gave a friend of mine a pair of earrings  that she liked.
ANNAPOLIS, MARYLAND, USA Biteena Frazier
#180
I offered to help write thank you notes and when the timing didn't work out for me to help with this project I insisted that I be given another way to help out. I WILL HELP!
ANNAPOLIS, MARYLAND, USA Grace Porter
#027
My friend from Canada was offered up our home: we served as his residence and I as his chauffeur while he interviewed at Peabody Institue.
ANNAPOLIS, MARYLAND, USA Janice Booth
#003
I gave my friend snorkel equipment to take on her trip so that her family would all be able to enjoy.
GLEN BURNIE, MARYLAND, USA Lynda Kroh
# (no boomerang with me at the time)
I was at the Post Office today, mailing out another 250 boomerangs, when a young man in front of me "had" to get his package out asap as he had to get back to work–they did not accept his type of credit card, and he had no cash–he was on the phone with his boss and appeared upset he could not get back to work. I lent him the cash to mail the package.
ANNAPOLIS, MARYLAND, USA Dona Rudderow Sturn