JNP (Jane NOT Plain): ADVENTURES IN FUN. CHARACTER, COURAGE, AND CONFIDENCE FOR A LIFETIME.

Jane & Jake's Adventures to Awesome™ (Jane NOT Plain®) is an adventure series of books nurturing the inner-awesome superpowers of character, courage, and confidence in kids 5-12+ years old. They're having fun while strengthening their healthy self-esteem!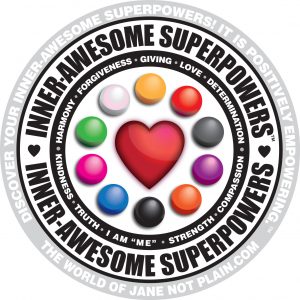 The adventure series of books (31 books in three series of ten, plus a prequel) consist of ten chapters each, with three alternative endings—Jane's, Jake's and Oracle's (the magical fish). In each book readers are challenged to earn their Pearl of Power™ in one of ten core values: TRUTH, KINDNESS, HARMONY, FORGIVENESS, GIVING, LOVE, DETERMINATION, COMPASSION, STRENGTH, and CHARACTER.
Each book's core value theme is supported by: songs, music, parent activity kits, educator curriculum, website interactive download activities for kids, a kids' CIA (Club Inner Awesome) website subscription (with monthly downloads and an opportunity for kids to correspond directly with Jane & Jake), and JNP gear — all to support our mission that kids will believe in, and ultimately live by: I AM. I CAN. I WILL. EMPOWERED.™
Click here for details on the adventure book series.
JNP is working on developing interactive animation, interactive kids' apps, and the JNPkids.com site for kids' empowerment fun and learning!
FOR DETAILS on research, data, and more, go to: www.theJNPproject.org to learn more…
JNP IS AN ADVOCATE, EMPOWERING AGENT, AND A HELPER.*
We advocate healthy self-esteem awareness and development in kids (unlike the inflated "high self-esteem" attributed to bullies).
We empower kids to be "inner awesome": to know, trust, and choose to act from their character, courage, and confidence (key ingredients of healthy self-esteem).
We help adults who care deeply about kids—especially parents, educators, and helping professionals—to nurture and strengthen kids' inner-awesome character, courage, and confidence through the core values of truth, kindness, harmony, forgiveness, giving, love, determination, compassion, and strength.
*  "When I was a boy and I would see scary things in the news, my mother would say to me, 'Look for the helpers. You will always find people who are helping.' "—Fred Rogers