#21: BACK UP DATA—Be Ready For Failure!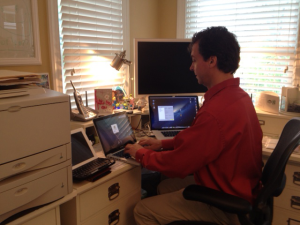 My IT Service guy was just here—servicing my office for 10+ years—and a conversation sparked whereas he said, "you can't believe how many of my clients don't 'back-up' or take seriously the DATA they could LOOSE." What??
I find it terribly frightening, the thought of loosing hours, days, weeks, months of precious work/data. How could you not take that seriously? The thought that professionals do is something to write about!
I have been on Macintosh computers since 1986 (in school)!! Fell in love with the creative computer then, and have been a loyal Apple follower ever since. In both my corporate world and personal businesses, one of my biggest struggles was not having automated back ups early on, as all was a real effort to manually back up to small storage on CDs, Zip drives, or SyQuest disks (remember them?).
Today, everything is automated with fantastic software (ChronoSync, Carbon Copy Cloner, TimeMachine) that can be scheduled to back up minute by minute, weekly or whenever. Off site "cloud" servers offer outstanding options for secure data storage too. Google Drive and DropBox are some examples of off-site, shared storage as well.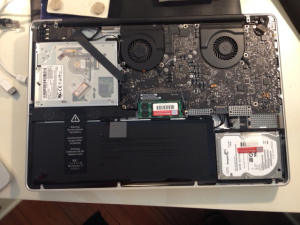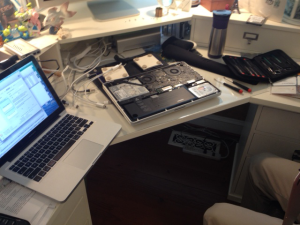 BACK UP AND PREPARE FOR FAILURE! has been my standard policy. Through my 28 years on computers—networking many creative stations and sharing data on multiple machines with multiple users, it is imperative to secure data back up ongoing—as I have lived through several hard drive crashes, and early on learned my lesson loosing some pertinent data (and the need to spend endless time in recreating it), that I would spend the time to take the safe precautions to back up all data now.
Here is a recent great example: my 8 month old 17" MacBook Pro is my main conduit/travel machine—the guts of my work—had a "failing hard drive" declining for several months (that I knew nothing about). And, during an update, the machine shutdown and locked me out of the drive's data which notified me of damaged data not recoverable. HELP for IT came immediately, and I was NOT in fear—as all data was, just hours earlier, backed up along with all systems data on it's typical full-back up. After 7 hours of restoration work and a new drive installation, I was back in business. The additional time was used to check other machines and their partition storage to confirm all copacetic.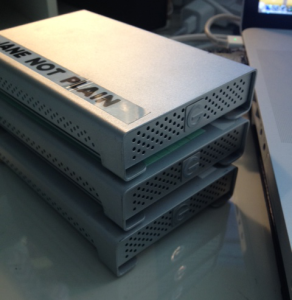 I just don't count on the one automated back up. I back up manually to G-Drives (old habits) and also have off-site storage. This is one of the most comforting/non-stress actions you can do, especially if you are responsible for you own work/business. Work smart, not foolishly.
~  ~  ~ 
Note: This Blog is a chronological diary of a start-up-company—The JNP Project's Journey—reading it from the start, will broaden your understanding of the path we are on, together, and hopefully, positively influence you in some way!
FYI Tip: Back up. Back up. Back up.
Some excellent articles on options on backing up:  http://www.american.edu/oit/network/Backup-FAQ.cfm
http://www.ironmountain.com/Knowledge-Center/Reference-Library/View-by-Document-Type/General-Articles/F/Four-Reasons-Why-You-Need-a-Backup-of-the-Backup.aspx