FIELD TRIP! — "We would like to learn all about how JNP creates adventure books!"

Thanks to Megan Zimmerman, M.A., Grade 7 Language Arts Teacher, Bates Middle School, founder of the after-school program, Girls Breaking Boundaries, for orchestrating the event.

We had a fantastic visit to the JNP studio — the group learned about the process of creating our adventure series, Jane & Jake's Adventures to Awesome! They learned about the creative writing; conception of how the stories were developed (all with authors globally in real-time) along with how all the illustrations were created step-by-step. Hands were up; questions were asked and answered! A very inquisitive, polite and intellectual group. It was my pleasure to educate them on JNP.
To make things a little interesting, I proposed a writing assignment. Would it be possible for a group of 12 year old student to develop one of Oricle's "ditties?" (We call the short, "very wise" poems Orcale says, a ditty.) "YES," the group shouted in unison! Wow, what fun they had working in groups to focus a theme they were working on in school: "LET GO!" The group did a fabulous job–finalizing three different ditties and presenting to themselves.
In conclusion, a bit more fun–coloring!! I love to see which kids choose which of our book adventure lead characters: Jane, Jake or Oracle. It was interesting, that as a group of 10 girls, a few took Jane,  a few Jake, and the rest Oracle. It was actually time for them to leave to get back to the school, and they all asked for more time to finish their artwork!
It was a fabulous Field Trip–thanks Bates Middle School for empowering your kids to believe in their own inner awesome super powers!
And, thank you to Ms. Zimmerman's class for taking the BOOMERANG IT! CHALLENGE and inspiring other kids to do good deeds and empower themselves!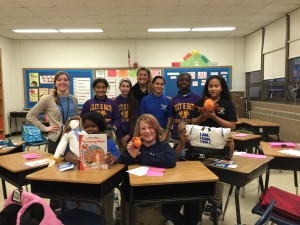 "Dona visited Girls Breaking Boundaries at Bates Middle School—a group for building confidence and self-advocacy in middle-school girls. Sitting in a circle, Dona had an energetic conversation with the girls about embracing their inner awesome. When she shared, "I am. I can. I will.," normally reserved girls shouted and jumped from their seats to share words to describe themselves, like "confident," "intelligent," and simply, "me." The JNP Project encouraged these quiet girls to be comfortable in their own skin and share their inner awesome with others. The girls can't wait to learn more about Jake and Jane—and themselves. Thank you again for coming and for ALL you are doing for our youth."
Megan Zimmerman, M.A.
Grade 7 Language Arts Teacher , Bates Middle School