Persistence.
Tenacity.
Determination.
STAYING POWER. (my personal favorite)
Ugh! Some days…a LOT of things don't go right, or just not well enough.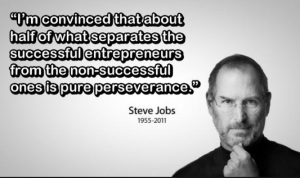 That's when the going gets tough and the tough get going!

Yea, it may all sound "corny" but in all actuality, it's really on target.
There are so many days where I need to stop, take a reallllyyyy deep breath, regain my composure, and hold strong to the vision. A successful brand needs to hit ALL the high marks; the standards of excellence and quality we are promising to deliver—and that is work that takes "staying power" and overall perseverance.
If you believe in your mission, then hold steady and work for it—we all know that good things, no, great things, take a lot of devotion and sacrifice.
A lot of tasks and projects DO go right, and work out exactly as outlined; don't get me wrong, because the majority of work goes really well. It's when several assignments and tasks are out of your control that hit you by surprise: for example, this is a "fill in forum post" because I worked half of yesterday preparing about 2o photo images of the development of JNP's key characters, and WordPress would NOT allow them to upload. We had a HTTP error and I got my website coder to work on the holiday weekend, and we had a few plug-ins that were taken off and on, and still could not figure out the issue. WP had made some "changes" recently to their back-end-system to make it more "user friendly" which in turn made it more difficult for me, as a seasoned creative professional, to utilize the system.
This in turn created the need to call in my social media manager over the holiday weekend, and all "scheduled media" had to then be reorganized…and so on. This issue ended my week with yet other "technical difficulties" issues, which included "fewer" design/layout options for many of the digital book conversions. Yet another area of our digital age that we need to deal with, which is not within our inner circle of control, yet on the outskirts of our circle of control.
So, as we "plan for life," we also need to "plan for the digital age." Stay calm and process on….and, this is where a strong hold of perseverance comes in…always. Hang in there…
Deep breath. Refocus. Get back to work.
~  ~  ~ 
Note: This Blog is a chronological diary of a start-up-company—The JNP Project's Journey—reading it from the start, will broaden your understanding of the path we are on, together, and hopefully, positively influence you in some way!
FYI Tip: "You may encounter many defeats, but you must not be defeated. In fact, it may be necessary to encounter the defeats, so you can know who you are, what you can rise from, how you can still come out of it."
― Maya Angelou