The World of Jane Not Plain, Jane & Jake's Adventures to Awesome, began with Oracle (Jane's not-so-plain talking goldfish and best friend).
Who wouldn't love a bright orange fish!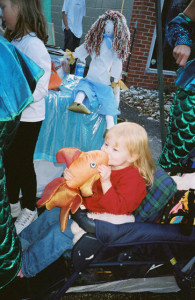 When we developed our initial marketing phase, we created some plush-toy characters, and Oracle was a hit! We created him in a large and small version, and the kids couldn't get enough of the BIG Oracle!
We actually created the 2-dimentional character on paper first. Several rounds of versions of big, wide, short, big smile, big eyes, small body, big tail, until we got to the perfect size proportions and characteristics. A nice big happy face with bright blue eyes to match the sea, and a wriggly body that could give us any "humanistic" pose we anticipated.
The creation of color styles and different uses for the character was considered: different mediums such as water color and graphic design would have to work for all of our cast of characters.
We took the original design and illustrations from the marketing phase and built on them: creating line art; and converting it over to water colors; and then digital medium to add graphics and bubbles shapes; expanded on the style sheet design of Oracle's body and facial features. Here I am showing you a basic body sketch and the water color medium process steps to the final artwork of Oracle above his bowl (with nothing in the bowl). At this point, we scanned in the artwork and added Jane & Jake (do you see something here different about Jane?), which is now present on the KIDS page http://adventurestoawesome.com/kids/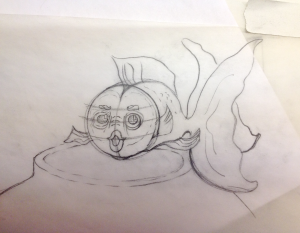 I can't wait for you to read the stories and get to know Oracle, Jane, Jake and all their friends! Enjoy your adventures!!

~  ~  ~ 
Note: This Blog is a chronological diary of a start-up-company—The JNP Project's Journey—reading it from the start, will broaden your understanding of the path we are on, together, and hopefully, positively influence you in some way!
FYI Tip: Take the time to really develop the 'who' and 'why' of your characters; give them the quality that will supersede your competition's character(s) counterparts.
The interesting background on who these best-friends are…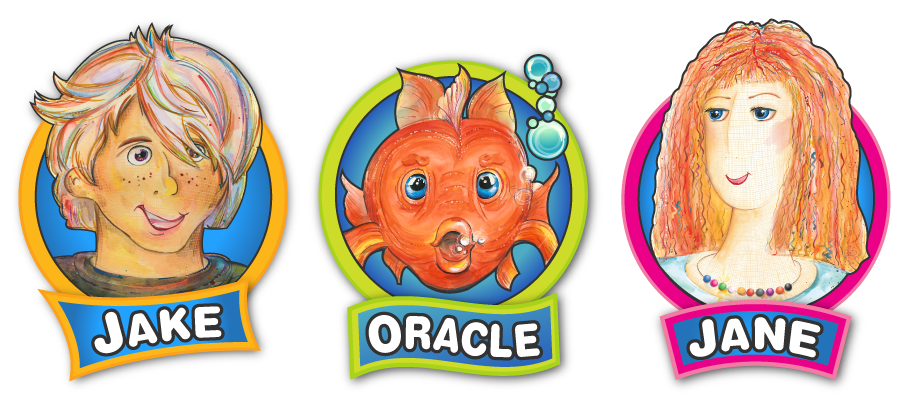 Oracle's name comes from the Oracle of Delphi, the wise messenger of Greek mythology. He is the "adult" in the stories, observing, commenting and yet remaining slightly aloof. He knows what Jane and Jake are thinking, but rather than informing and explaining  our Oracle encourages and guides Jane and Jake as they discover for themselves how to manage their emotions and behavior. The undersea world of Awesome is a device which  allows Jane and Jake to confront issues such as truth and kindness, learn about them and conquer their own anxieties and  fears in order to win pearls of power and gain self-confidence.
Why Jane and Jake? We spent a great deal of time choosing the names of our main characters. It was important to us that they were similar names, with the same number of syllables and the same sound.  The characters,  male and female,  are equals and have an easy relationship  as a 'team'  of friends, each with his or her own foibles, but learning together about inner awesome! Their simple names don't convey any particular socioeconomic class, culture, country or ethnicity. Children everywhere can identify with them. We hope your child identifies with Jane and/or Jake.
The undersea journey in Awesome is a metaphor for Jane and Jake's personal journey, and your child experiences this journey of self-discovery with them. Certain issues may resonate with your child and his or her personal journey may be different, in which case you will be able to use the story to prompt a personal discussion or discovery with your child. The reading experience becomes interactive between child, story and adult.
DISCOVERING YOUR INNER AWESOME IS POSITIVELY EMPOWERING!